A STRONG LICENCE FOR LITTLE GIRLS WHO BELIEVE IN THEIR DREAMS
The Disney Princesses brand is based on the epic adventures of young princesses who inspire little girls today. Disney princesses are wonderful stories, taken from tales loved by many generations. In turn surprising, moving and impressive, they continue to fascinate and delight, generation after generation.
Our heroines are courageous, independent and determined; they take charge of their own destiny, they explore the world, they challenge traditions. Each of the 11 princesses has her own personality and characteristics which little girls can identify with. For each little girl who believes in her dreams, there is always a princess to show her the way.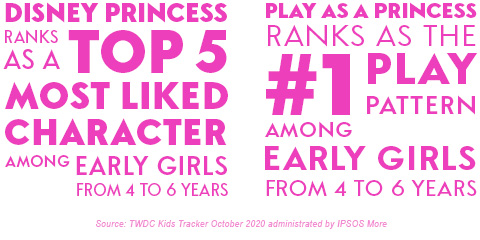 ENCHANTMENT AND ROMANTICISM
The Disney Princesses collection transports us to a fairy tale world which is both romantic and elegant. Sparkling materials, baroque patterns and soft colours make this ultra-feminine collection very refined. A special collection for "stylish little princess" aimed at little girls aged 3 – 5!