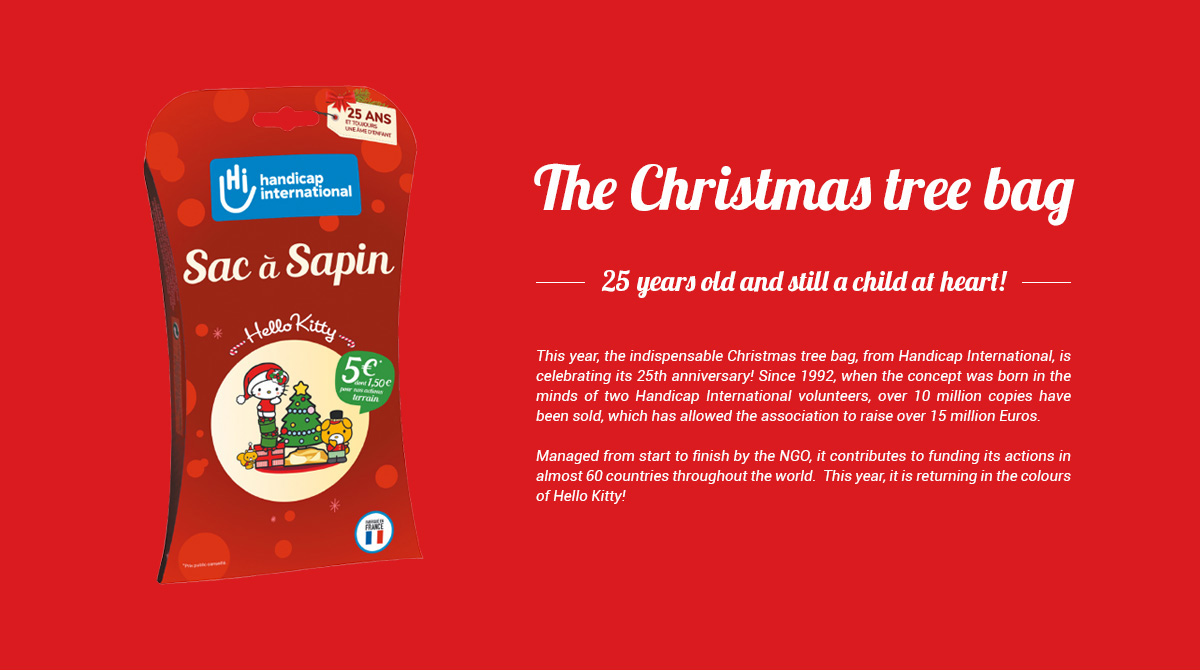 Hello Kitty Christmas tree bag

A purchase which is 100% socially-responsible
Prepared and packed at an ESAT (Établissement et Service d'Aide pour le Travail – vocational rehabilitation centre) in Rhône, the Christmas tree bag contributes to supporting around twenty disabled people with their professional projects in an adapted environment, throughout the year.  The entire chain from design to delivery in stores is managed by the association, which allows it to fund its actions in the field.  In 2017, over 540,000 Christmas tree bags were sold, representing a profit of over €810,000 in this way supporting Handicap International's development (education, health, rehabilitation…) and emergency programmes (supporting Rohingya, Syrian and Iraqi refugees…) in almost 60 countries throughout the world.
Practical, decorative and environmentally-friendly!
In 2018, the Christmas tree bag is returning with an excellent ambassador, Hello Kitty, as part of a partnership with Sonrio.
At Christmas, it will take its place under the Christmas tree, protecting the floor from needles.  With the bag, packaging your Christmas tree is child's play: practical and easy to use, the Christmas tree bag is suitable for most trees, even the largest (2.20m high with a width of 1.40m)! The Christmas tree bag is also kind to nature because it is completely biodegradable and has been able to be composted since 2005 as it is made from non-GMO cereal produced in France.  Unlike ordinary plastic bags, it is accepted at waste collection centres with green waste where it turns into compost in just 4 – 8 weeks.  In addition to all these advantages, it is a beautiful accessory for Norway Spruces and Nordmann firs at Christmas and lights up the living room with its gold colour!

Useful information
The Christmas tree bag is available in supermarkets, DIY stores, garden centres, florists, nurseries and the online store boutique-handicap-international.com from mid-November.